This course is available for purchase individually, and it's also included in a subscription to paid membership.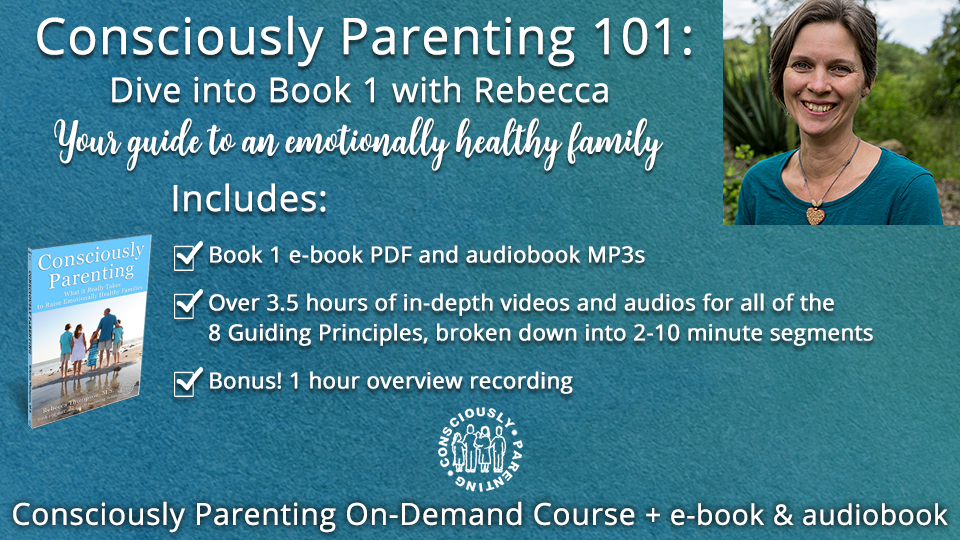 "I'm striving for my family to be emotionally healthy, unlike my own family when I was growing up. I want to find a way to set loving boundaries so I don't feel walked over. I need to find a way to handle feelings that feels better for us all. My goal is to have things feel better all around in my family."
If I could recommend just one resource to all families, it would be the Consciously Parenting 101: Dive into Book 1 with Rebecca Thompson Hitt. Whether you're working to heal or integrate experiences together or you're doing ok and just want to keep heading in that direction as your children grow, no matter how old your kids are (even if you haven't conceived yet), this is the resource for you.
This book, Consciously Parenting: What it Really Takes to Raise Emotionally Healthy Families, touches on all the areas of family life that parents get stuck. Feelings, boundaries, understanding what your child is communicating, learning how to prioritize the relationship, and making space for your own needs to be met. It's a growth tool that doesn't judge or shame, but helps you to see things in a new and healthier way.
The package comes with 8 modules, one for each of the Guiding Principles in Book 1, each with about four 5-9 minute videos for a total of over 3.5 hours of content. The Guiding Principles are there to guide you to find your own answers, rather than being a list of things to do.
You also get both the full audiobook and the PDF version so you can follow along. Exercises and practical things you can do in every module are included to help you really understand the material and apply it to YOUR family, starting today.
---
Pay what you can...
Please pay as much as you can afford to support the work we're doing here at The Consciously Parenting Project. We strive to make our information affordable for all families. If you can afford more, you're helping to support a family who might not otherwise be able to have the support, so thank you for paying more when you can.
Together we are stronger.
Together we make a difference.
Together we make the world a better place.